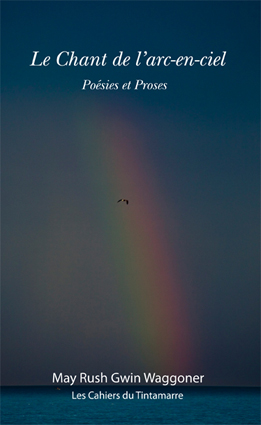 Le Chant de l'arc-en-ciel : Poésies et Proses. May Rush Gwin Waggoner.
ISBN: 978-098205588-5 . $15.00
To order this book, contact the bookstore of Centenary College:
by email at: bookstor@centenary.edu
by telephone at (318) 869-5278,
or by fax at(318) 869-5295
or buy this book at:

Le Chant de l'arc-en-ciel : Poésies et Proses. May Rush Gwin Waggoner.
It has been said that Louisiana will steal your heart as soon as you enter the state; you will be overcome both by the strangeness of its landscapes and the warmth of its citizens. The same experience awaits the reader who delves into this collection of short stories and poetry, all of which is steeped in the mystery that envelops this region. Scattered throughout these pages you will discover the soul of Cajun Louisiana, you will delight in the history of this most exotic of American states. May Waggoner paints with perfect mastery and deep penetration the evolution of an Acadienne who dreams of the nation she lost but who slowly comes to love her adoptive home. Through another character, we relive the flood of 1927. Another tells a personal tale of hurricane Rita. We slip through time and discover New Orleans occupied by federal troops just after the Civil War. The poetry scattered throughout the collection reminds us that May Waggoner has received impressive awards in France as well as in the United States. For anyone who lives in Louisiana, for the wanderer who has just discovered it and wants to know it better, this rainbow of kaleidoscopic colors will offer rich rewards to the reader.

Claude TEBOUL
Born in Mississippi, May Rush Gwin Waggoner, studied French in New Orleans and at Tulane University, at the Sorbonne in Paris. A professor at the University of Louisiana in Lafayette and winner of numerous awards for her poetry, her writing and musical arrangements of Louisiana songs and dances have brought her considerable recognition in France, Belgium and the United States.