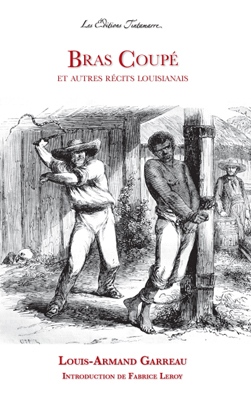 Bras Coupé et autres récits louisianais. Louis-Armand Garreau. Introduction de Fabrice Leroy.
ISBN: 978-0-9793230-3-4.
$15.50
To order this book, contact the bookstore of Centenary College:
by email at: bookstor@centenary.edu
by telephone at (318) 869-5278,
by fax at(318) 869-5295
or buy this book at:

Bras Coupé et autres récits louisianais. Louis-Armand Garreau. Introduction de Fabrice Leroy.
Within the constellation of French literature produced in Louisiana during the nineteenth century, the literary career of Louis-Armand Garreau (1817-1865) might seem atypical. Working on two continents, continually arrested, struggling with aborted political and literary aspirations, Garreau dreamed of greatness but was forced to accept ephemeral glory as a writer of serialized fiction. There has been a tendency to reduce Garreau's accomplishments to the single major novel he wrote while in Louisiana and to exclude the short fiction he published while in France. Such an approach dismisses important texts that expose the cultural foundations of French Louisiana in exciting ways. These texts, among the best short fiction produced by any Louisiana writer of the period, deserve to be reintegrated into the corpus of works focusing on Creole society. The six texts contained in this volume date from various periods and are characteristic of distinct phases of Garreau's career. The first four offer examples of various character-types of Louisiana society: runaway slaves, Creole planters, American Indians, and travelers. The author's abolitionist stance within these works reveals his most significant contribution to Louisiana literature; most importantly, he was recognized by the Créoles de Couleur who mourned his death in the Tribune de la Nouvelle-Orléans.
This new edition of Garreau's serialized fiction makes these texts available once more and will permit scholars and the general public to better know and appreciate the work of a writer whose importance can no longer be denied.