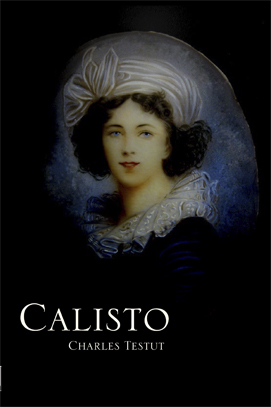 Calisto. Charles Testut. Texte établi par Elizabeth Lyles.
ISBN: 978-0-98920558-3-0. $15.98
To purchase this book, please visit:

Schools, universities, and retailers wishing to acquire this title should contact us directly by email.

Calisto. Charles Testut. Texte établi par Elizabeth Lyles.
The action of Charles Testut's historical novel, Calisto, ricochets between Moscow and New Orleans as he follows the vicissitudes of the German princess, Sophie de Wolfenbuttel. Famed for her beauty, Sophie de Wolfenbuttel, suffered the cruel fate of being married to the Czarowitz Alexis, the sadistic son of Peter the Great. In the very heart of an empire that prided itself in its enlightened ideals, her marriage descended into unspeakable and barbaric violence. Beaten and left for dead by her husband, a ruse leads Testut's heroine to the promised land of Louisiana where she lives in utter obscurity. Throughout this vertiginous journey the reader encounters a multitude of seductive characters who are all in search of a better life: exiles; a relative of Jean-Jacques Rousseau; good-hearted peasants; military men in the service of Louis XV; the elite of royal courts. Testut unveils the machinations of a France struggling create an Empire yet buffeted by political storms that seem to echo within the hurricane of 1722 that devastated the colony. Calisto gives a wink and a nod to modernity as he offers a glimpse of a world on the edge of being swept into a revolutionary vortex that would change forever both the old France and her colonies in the New World.
N. Christine Brookes.