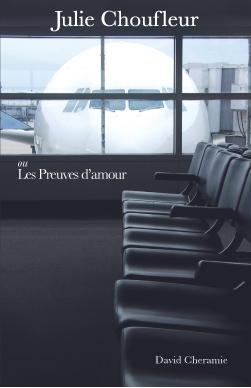 Julie Choufleur : ou Les Preuves d'amour. David Cheramie.
ISBN: 978-0-9793230-1-0.
$15.50
To order this book, contact the bookstore of Centenary College:
by email at: bookstor@centenary.edu
by telephone at (318) 869-5278,
by fax at(318) 869-5295
or buy this book at:

Julie Choufleur : ou Les Preuves d'amour. David Cheramie.
It has been said that oral literatures must first create a poetic tradition before attaining real literary maturity. If this is so, then French Louisiana has arrived at this turning point with a new generation of poets born within the Cajun tradition. Still, we must not forget our heritage. Louisiana experienced a great flowering that lasted nearly a century. Throughout the 19th century the newspapers and literary journals of the state, such as the Comptes rendus de l'Athénée louisianais, published poetry, essays, short stories and novels, many of which show a maturity of style comparable to the best work produced in French during the period. Thanks to the Éditions Tintamarre these works are available once again.
In addition to its collection of historical texts, the Éditions Tintamarre also publishes the work of contemporary authors of French Louisiana, an undertaking even more important to the cultivation of French letters in the state today. Julie Choufleur : ou Les Preuves d'amour is the third work in this series. It seems perfectly natural to me that David Cheramie has found a place within this collection. The end of the 19th century ushered in a long winter for French Louisiana. Then, inspired by their heritage, a group of young Cajuns began to affirm their identity, discovering their poetic voice during the 1970s, nearly a century after the creation of the Athénée louisianais.
Born in a completely oral tradition, the Cajun poets were confronted with a dilemma; how could they leap the chasm that seemed to separate spoken Cajun from standard French? How could they retain the idiosyncrasies of Cajun French without seeming too exotic to a francophone reader? David Cheramie's work is important because it clearly affirms that our French is not simply a particular dialect cut off from the francophone world. Rather, it is simply the French as it is spoken here. Cheramie does not compromise to make his writings seem more "Cajun." Rather, he embraces his Cajun heritage but refuses to disguise it as folklore. Cheramie's poetry proves that French literature is at home in 21st century Louisiana, and that our voice offers a hearty contribution to la francophonie internationale. Without making any distinction between Louisiana French and "French," David Cheramie reminds us that we have a literary past, as well as a future.
Zachary RICHARD.