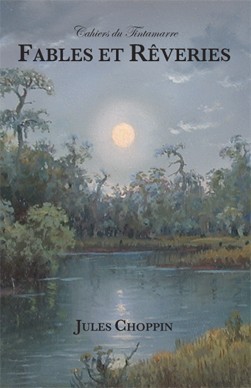 Fables et Rêveries. Jules Choppin. Edited by Roxanne E. Smith.
ISBN: 0-9754244-8-3. $15.50
ISBN-13: 978-0-9754244-8-3.
To order this book, contact the bookstore of Centenary College:
by email at: bookstor@centenary.edu
by telephone at (318) 869-5278,
by fax at(318) 869-5295
or buy this book at:

Fables et Rêveries. Jules Choppin. Edited by Roxanne E. Smith.
In this small volume, R. E. Smith has carefully collected and transcribed all of Jules Choppin's poems in French as well as his fables in Louisiana Creole.
Choppin's poetry offers radiant visions of Louisiana's countryside, where nature seems to offer personal and intimate proof of God's presence on earth. His poetry follows that of other Louisiana poets who had already celebrated the state's ephemeral and profoundly mysterious countryside: Adrien Rouquette, George Dessommes and Charles Testut had all sought their own personal peace in the expansive aquatic deserts that make up so much of Louisiana. For these poets nature seems to strive for the infinite while Choppin's poetry seems to exhale the intimacy of a confessional.
Clearly, however, his fables in Louisiana Creole represent Choppin's most creative work. Himself a Creole of European descent, Choppin continued the work begun by Alcée Fortier and Alfred Mercier, the first authors to study Louisiana Creole.However, even if the language of the fables is Creole, Choppin's inspiration draws upon entirely European sources. This is entirely natural; Choppin was not writing for Creolophones but for priviledged members of New Orlean's elite. The poet never draws upon African folklore to concoct his fables. Rather, his debt is to La Fontaine and his goal is to entertain and teach. Jules Choppin might justly be considered our own La Fontaine of the Bayous.