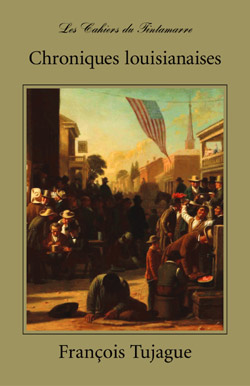 Chroniques louisianaises. ISBN : 0-8723258-1-6 $13.50
To order this book, contact the bookstore of Centenary College:
by email at bookstor@centenary.edu
by telephone at (318) 869-5278,
by fax at(318) 869-5295
or buy this book at:

Chroniques louisianaises
François Tujague
François Tujague, born in 1836 in the South of France, immigrated to Louisiana in 1841. He established himself in business and was, as president of the Union Française and vice president of the Athénée Louisianais, a strong defender of the French language in Louisiana. He published poems, chronicles and tales in the principal French newspapers and magazines of Louisiana – La Renaissance Louisianaise, Les Comptes Rendus de l'Athénée Louisianais, L'Estafette, Le Meschacébé, and L'Observateur Louisianais. He died in New Orleans on September 27th, 1896. His tales offer a realistic portrait of all the characters, who, through their acts and their lives, heroic or ordinary, created the complex mosaic that is French Louisiana.