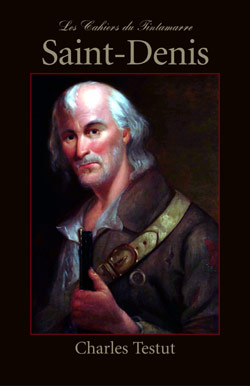 Saint-Denis, ISBN: 0-9723258-8-3 $13.50
To order this book, contact the bookstore of Centenary College:
by email at bookstor@centenary.edu
by telephone at (318) 869-5278,
by fax at(318) 869-5295
or buy this book at:

Saint-Denis, Charles Testut.
Text edited by Courtney Herzog.

As soon as he arrived in New Orleans after the earthquake that destroyed Pointe-à-Pitre in 1843, doctor Charles Testut began to publish a group of serialized novels and stories based on the history of French Louisiana. The culminating point of this francophone regionalist movement is best represented by the literary journal, Les Veillées Louisianaises. Founded by Testut in 1849 and using Alexandre Dumas as a model, the Veillées featured an entire series of novels inspired by Louisiana history. Saint-Denis, appeared in the first volume of the Veillées. The setting for this tale of love and adventure is the voyage made by Saint-Denis de Juchereau, the founder of Nachitoches, to open a trade route with the Spanish possessions in New Mexico. While this work is certainly not a masterwork of our literature, it will not disappoint the reader who wishes to understand the development of the historical novel in Louisiana.