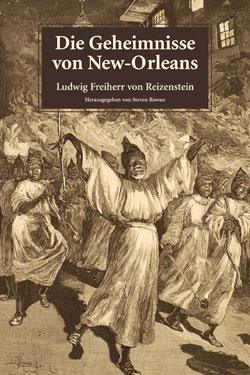 Die Geheimnisse von New-Orleans. ISBN: 0-9723258-4-0. Text in German. $19.50

To order this book, contact the bookstore of Centenary College:
by email at bookstor@centenary.edu
by telephone at (318) 869-5278,
by fax at(318) 869-5295
or buy this book at:

Die Geheimnisse von New-Orleans. Ludwig von Reizenstein. Critical edition by Steven Rowan. N.B. This text is in German.
Die Geheimnisse von New-Orleans was written by the German immigrant, Ludwig Freiherr von Reizenstein and published in the Louisiana Staats-Zeitung a few years before the Civil War. The action of this historical fantasy is silhouetted against the decadent atmosphere of an antebellum New Orleans filled with shady characters set on exploiting others and home to minorities whose sexual desires run afoul of society's notions of morality. This world witnesses the birth of a Black Messiah and offers the reader the first profound and sensitive depiction of lesbian love in American literature. The multi-layered nature of this scandalous novel, written in the Deep South against the backdrop of slavery, contributed even more to its disappearance than the fact that it was written in a language other than English. Deemed lost for many years, this edition of the Geheimnisse represents nothing less than a resurrection of one of the most provocative works in American literature.