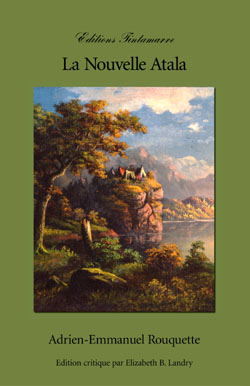 La Nouvelle Atala. ISBN : 0-8723258-0-8 $13.50
To order this book, contact the bookstore of Centenary College:
by email at bookstor@centenary.edu
by telephone at (318) 869-5278,
by fax at(318) 869-5295
or buy this book at:

La Nouvelle Atala, Adrien Rouquette. Critical edition by Elizabeth B. Landry.
La Nouvelle Atala focuses on the mystic tradition, in which the first monks insisted that oneness with the Divinity could only be found in nature, a place of refuge, prayer and communion with God. La Nouvelle Atala's structure is thus based on dualism: on one side is nature, inherently good because it is God's creation; on the opposing side, society, a human creation, has degenerated into an inhuman morass through mankind's acute materialism, selfishness and desire for wealth. Atala is really the daughter of the spirit; as Adrien Rouquette is the son of the spirit, giving up a quiet ministry in a city and choosing to live in nature with the Chactas tribe.
Following the French Romantic tradition, in particular Mme de Staël, Rouquette inserts several themes proper to the popular novel and explores the relation between mystic Christianity and poetry. He creates a uniquely Louisianian work, different from French literature, not because of the language, but because of its spirit, theme and personal vision.