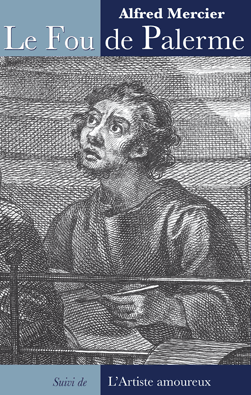 Le Fou de Palerme.
ISBN: 0-9754244-4-0.
$15.50 hardback
To order this book, contact the bookstore of Centenary College:
by email at bookstor@centenary.edu
by telephone at (318) 869-5278,
by fax at(318) 869-5295
or buy this book at:

Le Fou de Palerme, Alfred Mercier. Text edited by Carrie A. Lombardino.

Alfred Mercier published his first novel, Le Fou de Palerme, in 1873. This delightful tale shows the profound influence of French Romanticism on the young writer. Indeed, the exoticism of the setting, ricocheting between the cemetery of Palermo and the palace gardens of the Duke Serra di Falco, owes much to the haunting tales of Théophile de Gautier and Alexandre Dumas. Le Fou de Palerme recounts the story of the young and handsome cellist, Angiolo Calamatti who makes the fateful discovery that the beautiful stranger he has come to love is more that she seems. Ensnared ever more tightly in her seductive web, Angiolo teeters on the edge of insanity when he discovers he has been seduced by Death itself. Mercier's novel offers the reader a sublime tale of fantastic love and untimely death—a delightful example of Louisiana Romanticism.