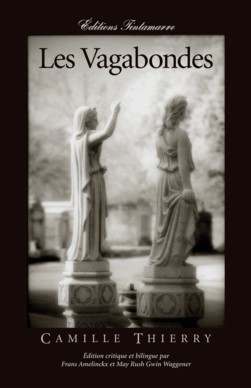 Les Vagabondes. ISBN: 0-9754244-0-8. Paperback.
$15.50

To order this book, contact the bookstore of Centenary College:
by email at bookstor@centenary.edu
by telephone at (318) 869-5278,
by fax at(318) 869-5295
or buy this book at:

Les Vagabondes. Camille Thierry. Bilingual critical edition by Frans C. Amelinckx and May Rush Gwin Waggoner.
Although their achievements have been largely overlooked, numerous black francophone writers flourished in nineteenth-century New Orleans. To date, their works, published almost entirely in the ephemeral newspapers and journals of the day, have been difficult to find and nearly impossible to study. Now, after fifteen years of meticulous study and monumental patience, Frans Amelinckx has created a framework that enables modern readers to understand these works. Indeed, their authors are worthy of our attention not only because of their historical importance, but because they explored regions perhaps best designated as "negative space" — the ambiguous zone between black and white, inhabited by Louisiana's excluded "third caste" who were not slaves but who were considered less than whole by white Creoles. This bilingual critical edition by Frans Amelinckx and May Waggoner restores Thierry's poetry to its rightful place as one of our nation's most unusual and unexpected literary accomplishments as it carefully explores the complexity of racial interaction in nineteenth-century Louisiana. Waggoner's sensitive and elegant translation of Thierry's poetry makes this edition especially valuable to English speaking scholars of American and African American studies.