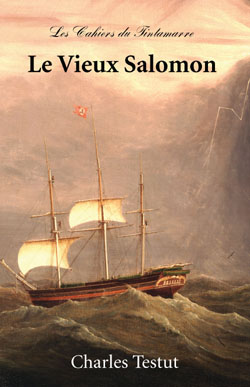 Le Vieux Salomon, ISBN: 0-9723258-3-2, $17.50
To order this book, contact the bookstore of Centenary College:
by email at bookstor@centenary.edu
by telephone at (318) 869-5278,
by fax at(318) 869-5295
or buy this book at:

Le Vieux Salomon
Charles Testut
Charles Testut was born about 1819 in France but left at an early age to seek his fame and fortune in the New World. By 1839 he had found his way to New York where he established a French newspaper, L'Indicateur, that failed within a year. Setting sail for Pointe-a-Pitre, Testut opened a practice as a medical doctor, but when the city was destroyed by an earthquake in 1843, Testut left for New Orleans and returned to journalism, buying the weekly newspaper La Chronique in 1849 and publishing a series of novels based on Louisiana history in the Veillées lousianaises.
Testut, one of the founders and secretary of the Internationale of New Orleans wrote his abolitionist novel, Le Vieux Salomon, in 1858. The novel, published as a feuilleton in the newspaper L'Equité in 1871 must be recognized as the first Marxist novel in American literature.
The novel is surprisingly modern on several levels. Indeed, the descriptions of the interiors of slave cabins offer valuable insight into the daily lives of field slaves and the portrayal of Casimir as a sexually desirable black male who sets white women's hearts afflutter can find no parallel in American literature until late in the 20th century. Finally, Testut's Marxiste critique of slavery, an institution that reduces human beings to the state of goods that can be bought and sold, offers a distilled vision of an unjust society in which even those who produce the goods become the property of a wealthy and immoral few.
Testut died poor, grief stricken and forgotten around 1892.