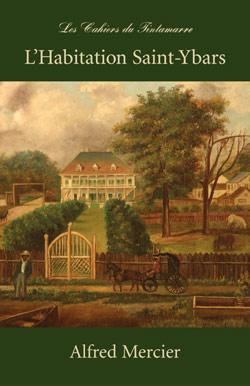 L'Habitation Saint-Ybars, ISBN: 0-9723258-2-4 $15.50
To order this book, contact the bookstore of Centenary College:
by email at bookstor@centenary.edu
by telephone at (318) 869-5278,
or by fax at(318) 869-5295
or buy this book at:

L'Habitation Saint-Ybars
Alfred Mercier
Alfred Mercier, born on June 3rd, 1816 in McDonoghville, was a doctor and writer whose career represents the highest point of Creole literature. He spent part of his youth traveling in Europe where he frequented romantic and progressive movements. Fleeing the coming Franco-Preussian War, Mercier and his family sought refuge in New Orleans, where he earned his living as a doctor and became involved in the literary scene of Creole Louisiana. The period after 1873 is particularly prolific for Mercier as a man of letters. He published several works: Le Fou de Palerme in 1873, La Fille du Prêtre in 1877, his "Study on the Creole language in Louisiana" in 1880, and his masterpiece, L'Habitation Saint-Ybars, in 1881. This early example of American Naturalism deserves to take its place within the canon of Francophone literature.