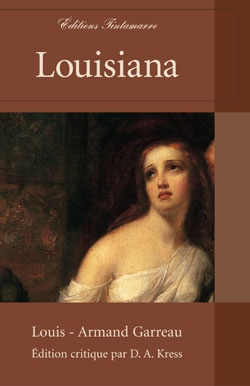 Louisiana, Armand Garreau. Critical edition by D. A. Kress.

ISBN: 0-9723258-7-5. $15.98

To purchase this book, please visit:

Schools, universities, and retailers wishing to acquire this title should contact us directly by email.

Louisiana, Armand Garreau. Critical edition by D. A. Kress.
Thanks to this edition Armand Garreau will at last be available to the French reading public in Louisiana. Everything about it underscores the fact that this book will be of interest to specialists in Louisiana history, school boards seeking material for immersion programs and even the casual reader who simply wants to read a good book. The riveting drama and the simplicity of the action both heighten the interest of Garreau's historical novel. Clearly, one of the main points of interest of Louisiana is the mise en scène of events that really happened and that had the potential to radically change the destiny of the continent. The strength of the novel resides in the clarity of the plot, creating a passionate story that sweeps the reader along. The fact that the leaders of the revolt were shot down near the present-day site of the Café du Monde in New Orleans should give all of those who love Louisiana reason to question their ideas and knowledge of American history and to be proud of their French-American heritage.