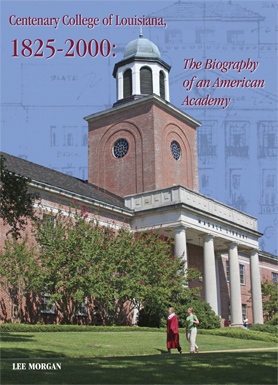 Centenary College of Louisiana, 1825-2000: The Biography of an American Academy. Lee Morgan.
ISBN: 978-09793230-9-6. $20.00
To purchase this book, please visit:

Centenary College of Louisiana, 1825-2000: The Biography of an American Academy. Lee Morgan.
The history of Centenary College has been in the main a precarious one. The school itself is the merger of two failed institutions which for 15 years (1845-1860) actually flourished with a beautiful campus that included attractive buildings, a strong faculty and academic programs for students who had passed challenging entrance requirements, and a dedicated board of trustees.
Once the two failed institutions of higher education, the College of Louisiana in Jackson and Centenary College of Brandon Springs, Mississippi, merged in 1845, the new private educational entity enjoyed a flourishing 15 years in the idyllic locale of Jackson in East Feliciana Parish. With handsome buildings, an outstanding faculty, challenging curricula, qualified students, and the support of the Methodist Church and a dedicated board of trustees, the future of the school looked bright indeed. It became an important center of culture as well as academic instruction. Debating societies played an important part of the College's commencement programs as did distinguished outside speakers, usually including the governors of Louisiana and Mississippi. These events often lasted three days and drew crowds of up to 3,000 persons.
The Civil War put an end to that glowing era. A battle of the war and attendant vandalism seriously damaged buildings, classrooms, laboratories, library, and dormitories. Closed during the War, when the College re-opened, its existence was financially and physically precarious until 1908, when it moved to the bustling northwest Louisiana town of Shreveport. Even there, its situation was shaky until 1921. In that year, a dynamic new president, the Reverend George Sexton, launched the College on a path of athletic and academic achievement. The athletic heyday lasted until World War II, after which Centenary's renown derived primarily from academics. Even in the direst financial times of the 19th and early 20th centuries, the College consistently graduated noteworthy numbers of students who would be distinguished contributors in a variety of fields of endeavor. A cadre of outstanding professors through the years and the leadership of three of the strongest presidents in the College's history--Joe Mickle, Don Webb, and Ken Schwab--have combined to enhance the reputation of Centenary in the chronicles of liberal arts education.