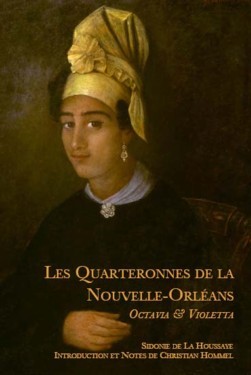 Les Quarteronnes de la Nouvelle-Orléans. Tome I, Octavia & Violetta.
ISBN: 0-9754244-2-4.
To order this book, contact the bookstore of Centenary College:
by email at bookstor@centenary.edu
by telephone at (318) 869-5278,
by fax at(318) 869-5295
or buy this book at:

Les Quarteronnes de la Nouvelle-Orléans. Tome I, Octavia & Violetta. Sidonie de La Houssaye. Introduction et notes de Christian Hommel.
Sidonie de La Houssaye fills the pages of her two (no, really three)
novellas with such irresistible, amoral femme-fatale Quadroons as
Adoréah, Octavia, and Violetta, whose deep diamond eyes and satin
skins spell disaster for the young men who hopelessly fall for them
in the mysterious city of Rue Royale and levées. We read about the
Wednesday evening Quadroon balls at the Salle Chinoise, smell jasmine
and visit the florist, Watch the characters eat intimate soupers,
tête-à-tête style, covet the collier of Marie Antoinette, and enter
the magnificent boudoirs of these modern courtesans. Havana seems
very close, the large cast of characters includes Gina, a Quadroon whose father is Sicilian, the jeweler Roche, and the stereotypical moneylender Levy. Thousands of piastres change hands in these erotic plots; and not surprisingly, the weak white men who become, as La Houssaye puts it more than once, "enslaved" by these women who are variously called nymphs, sylphs, furies, pythonesses, or chameleons and are likened to Medea or Lucrecia Borgia, die by pistol, be it as suicide or in a duel.
Christian Hommel's carefully researched introduction and notes help to orient the reader when confronting these almost unbelievable genre pieces of the late nineteenth century.
Werner Sollors, author of Neither Black nor White yet Both.