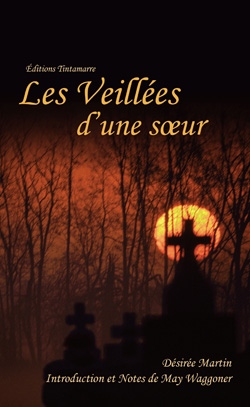 Les Veillées d'une sœur. Désirée Martin. Introduction and Notes by May Waggoner.
ISBN: 978-09793230-4-1. $19.50
To order this book, contact the bookstore of Centenary College:
by email at: bookstor@centenary.edu
by telephone at (318) 869-5278,
or by fax at(318) 869-5295
or buy this book at:

Les Veillées d'une sœur. Désirée Martin. Introduction and Notes by May Waggoner.
Six months after her birth near bayou Lafourche in 1830, Désirée Martin's family moved to her grandfather's farm in Grande Pointe. This upheaval was soon followed by her father's death due to a cholera epidemic. Her mother seems to have been profoundly shaken by this loss and in the following years her mental state became increasingly unstable, culminating in a series of visions that told her to place her daughter in the nearby convent. Although Désirée felt no calling to the sisterhood, her mother insisted, and the young woman entered the Couvent du Sacré-Cœur as an orphan on July 27, 1846. After six years of religious instruction, in 1853, she took the veil.
Twenty years later, when she renounced her vows, shock and gossip soon spread through the village where she had grown up. After all, she was a defrocked nun, and an old maid who was forty-three years old. Some villagers said she had left to get married; other said she had gone mad; some said she was sick and still others maintained that she had been expelled because of her "high-minded" ideas. People whispered about her clandestine and unauthorized flight and there was vague talk about $40,000. that had supposedly been offered by the Mother Superior for mysterious but undefined reasons. Désirée was profoundly hurt by the hostility she encountered in Grande Pointe. Censured on all sides she struggled to justify herself to those who assailed her with innuendo and gossip. She took refuge in her Veillées and poured her soul into them, creating a moving psychological portrait of a single woman, struggling within the immensity of a rural, isolated, and profoundly patriarchal Louisiana.